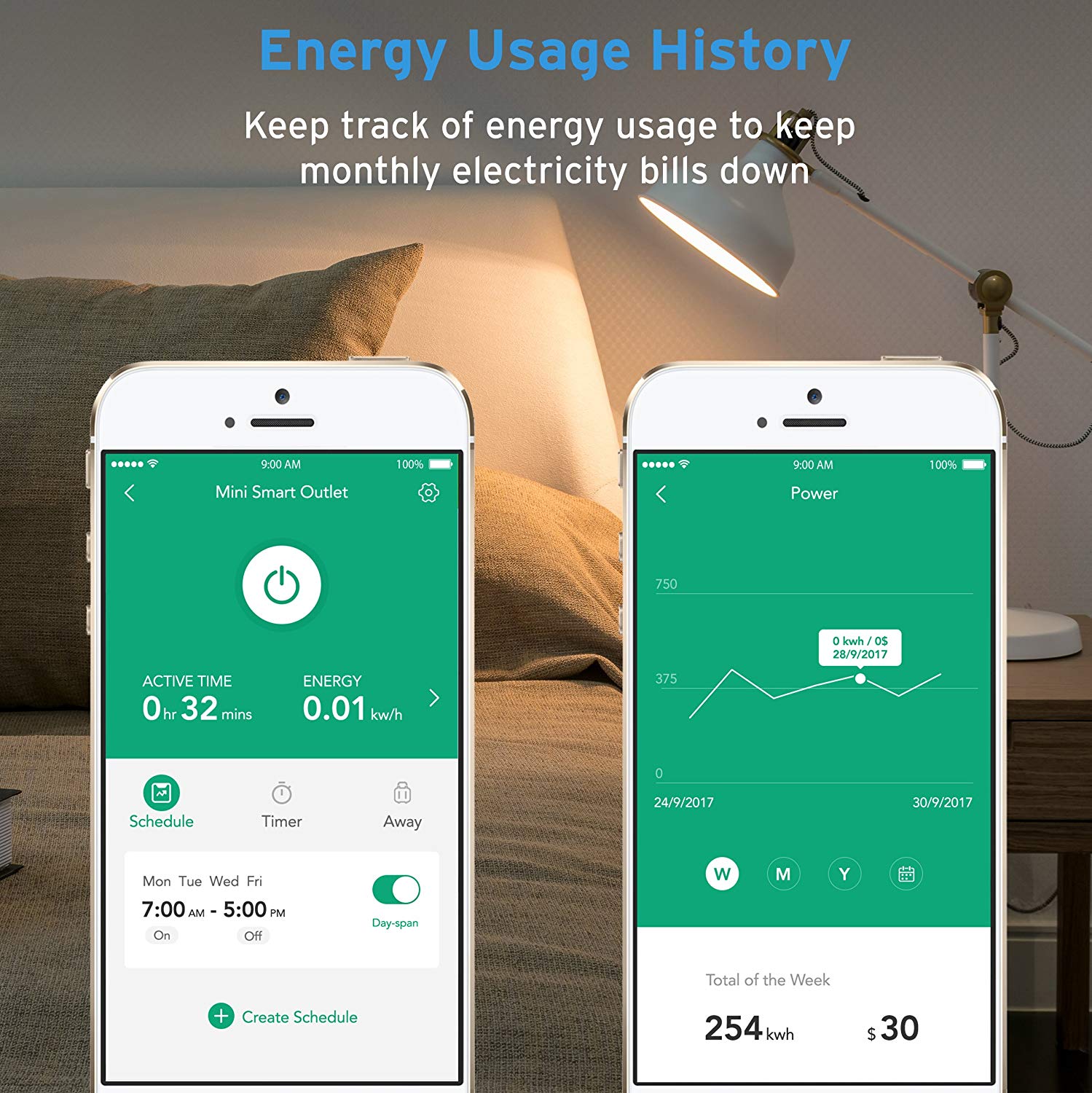 Etekcity Voltson Smart WiFi Outlet (10A)
Model: ESW01-USA
Use Voice Control: Works with Amazon Alexa and Google Assistant. Power your devices without lifting a finger.

Track Power Usage: Figure out and track which devices use the most energy. You can effectively cut your usage to save money on your next electric bill.

Sunrise & Sunset: Uses local time to turn your devices on/off with natural light. Have the desk lamp on and ready when you wake up in the morning, or set your bedroom light to turn on right at dusk.

Away Mode: Turns your lights on/off in random intervals within a time frame of your choice. Forgot to set it at home? Set it remotely and always protect your home.

NOTE: A secured 2.4 GHz Wi-Fi network is required, 30-Day money back, 2-year warranty and lifetime support.
Communication Mode
IEEE802.11b/g/n (WiFi)
Communication Frequency
2400–2483.5MHz
Wireless Distance (Outlet to Router)
98–164 ft / 30–50 m (max visible range)
Maximum Switch Current
10A
AC Power Supply Range & Supply Frequency
AC 120V, 60Hz
Power Consumption
0.7–1.2W
Item Weight
3.2 ounces
Operating Environment
14°F–104°F / -10°C–40C°
Storage & Transportation Environment
-4°F–104°F / -20°C–60°C
Compatible Systems
Android™ 4.3 or higher / iOS™ 8.0 or higher
Product Dimensions
4 x 2.5 x 1.2 in / 102 x 62 x 30 mm
Material
ABS
Why aren't my outlets connecting to the VeSync app?
During the setup process, you must be connected to a secure 2.4GHz WiFi network.

Make sure the WiFi password you entered is correct.

Try moving your router closer to your outlet (164 ft / 50 m visible range is best).

Make sure you don't have too many devices connected to your router (10 or fewer is best).

Close and reopen the VeSync app.

Clear your VeSync app cache.

Reset your smart outlet.
How do I change my WiFi network to a 2.4GHz WiFi network?
Most dual-band routers support both 2.4G and 5G networks. Select the WiFi name that does not end in "_5G".
If your phone is attempting to connect to the 5G network, try "forgetting" or temporarily disabling the 5G network.

If you are unsure, or if the 2.4G and 5G networks do not have separate names, please contact your internet service provider.
I can't find the "ESP" access point during configuration.
Press and hold the power button on the outlet for 5 seconds , or until the LED light starts blinking, to trigger Configuration Mode. The "ESP" access point will appear in your list of available WiFi connections.
During Configuration Mode, the LED light on the outlet will slowly blink blue. You will have 5 minutes to pair the outlet with your phone.
Make sure your router is connected to the internet, and your phone's network connection is working properly.

Delete the offline outlet from the VeSync app. Swipe left (iOS) or tap and hold (Android), and tap Delete.

Reset the outlet by pressing and holding the power button for more than 15 seconds, or until the LED light starts blinking. The light will blink for 10 seconds and turn off.

Once the outlet has been deleted and reset, reconfigure your outlet with the VeSync app.

When the outlet is online again, go to Device Settings, and tap Upgrade Firmware.
Note: Power outages, internet outages, or changing WiFi routers may cause your outlets to go offline.
After adding my smart outlet to VeSync, why won't the smart outlet icon appear on the My Home screen of the VeSync app?
After adding your smart outlet to the VeSync app, refresh the main menu screen by closing and reopening the app.
Amazon Alexa or Google Assistant can't find my app or can't discover my smart outlet.
Make sure your wireless network router is close enough to your smart outlet. The smart outlet must be within a (164 ft / 50 m) visible range from the router.
Check that your Amazon Alexa or Google Assistant is working properly.
Why isn't my smart outlet turning on/off as scheduled?
Make sure that the schedule is still turned on.

Make sure that your phone's Location Services are turned on.

Make sure the smart outlet is connected to a working network and is not offline.
Check Out Our Other Outlets